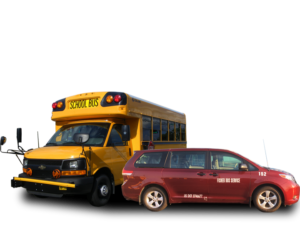 Specialized Transportation
Fisher Bus Service is proud to serve ALL of the pupil transportation needs of the Hamburg Central School District.
Our dedicated team of transportation specialists are experts in the Specialized Transportation Business. Fisher Bus Service is committed to ensuring we remain at the forefront of evolving requirements and needs with an extensive training program of school bus drivers and attendants to best service the students we serve.
Our qualified drivers and attendants understand a student's educational aspirations, as well as their independent needs. We aid in our passengers' success by carefully screening and training our Specialized Transportation drivers and attendants to ensure they have what it takes to allow your student to prosper.
Fisher Bus Service drivers and attendants are required to participate in numerous and student specific education programs, workshops and on-the-job training focused on recognizing, responding to, and transporting students with a variety of physical and emotional needs.